It's been a little over a month now since day 1 of the Shelter In Place measure and I was getting tired of constantly binge watching The Office. So, I decided to sign up for the 30 day Shudder free trial (the 30 day free trial deal might be over by the time this is released).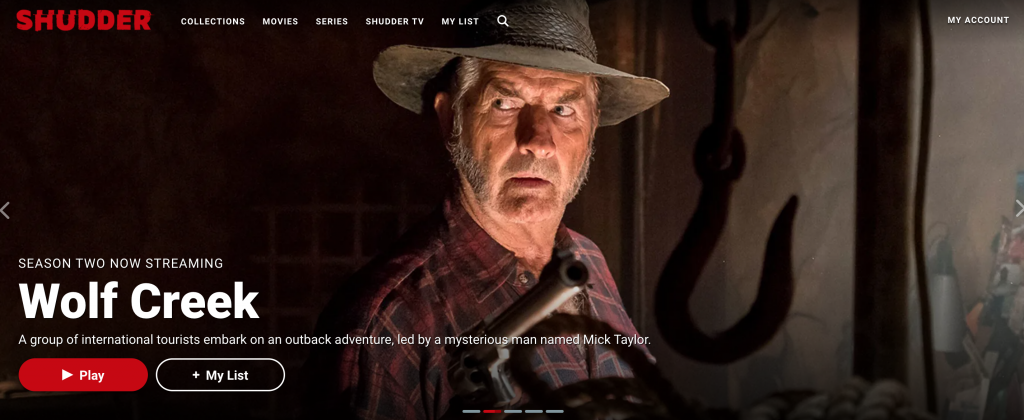 After, going through some of the horror movies on Netflix, Hulu and Amazon Prime Video, I found that I was constantly wishing they had a wider range of horror films and that's where Shudder shines. There were two factors that finally made me take the plunge – the obvious Shelter In Place measure and the Blumhouse/Fangoria ShockWaves Podcast.
They would mention films or shows that are on Shudder and one day after an episode of the podcast I said "screw it!" For some of you who don't know, Shudder, is a streaming service just like all the other ones out there but it's unique in that it heavily caters to the horror genre.
Despite some little knit picky things, Shudder does deliver. The Shudder app is only available on a few devices – Amazon Firestick, Android, iOS, Roku, Xbox, Apple Tv and ChromeCast. Now, I imagine that a lot of you probably have these devices, so this is most likely a personal issue but I really wish they would have it available for Smart TV's and the Sony Playstation gaming systems. Currently, I use my Playstation 4 mostly for gaming and my Smart TV for all my streaming service needs.
The only way I can stream the Shudder app on my TV is to sign in via my phone and cast the app to my TV using the TV's built-in SmartCast feature. It's a minor inconvenience as I found that using the Shudder phone app can glitch out at times.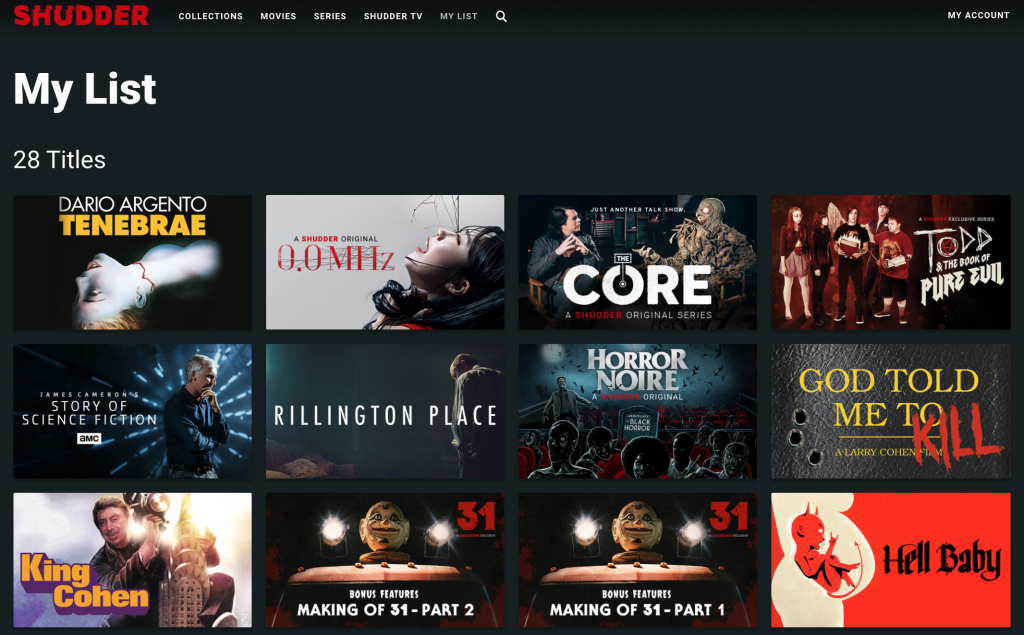 Also, while testing out the dedicated app on my roommates Nvidia Shield, you have to navigate to the "account" tab then you'll find the "My List" section which is where your saved films and shows are. I feel that implementing a "My List" tab at the top of the main page could prove to be easier and quicker than taking that extra step. I will note though, that if you sign in via the actual Shudder website, there is a "My List" tab up top.
Shudder's exclusive content is also a hit or miss. Now, I have only watched a handful of Shudder exclusives – Cursed Films, Satanic Panic and Room. I enjoyed all three in their own ways, especially the doc episodic Cursed Films. Be sure to look out for my reviews for all of those films sometime soon. They do have exclusive content like: Wolf Creek, Iskander, The Head Hunter and The Dead Lands that all look like some good binge-worthy entertainment.
From newer films to some good ole' deep cuts, Shudder does have a vast collection of horror. You can watch Dario Argento's Tenebrae then once that's done, switch over to Rob Zombie's 3 From Hell. I'm not sure why you would want that as a double feature but with all the random horror films and shows on Shudder you can.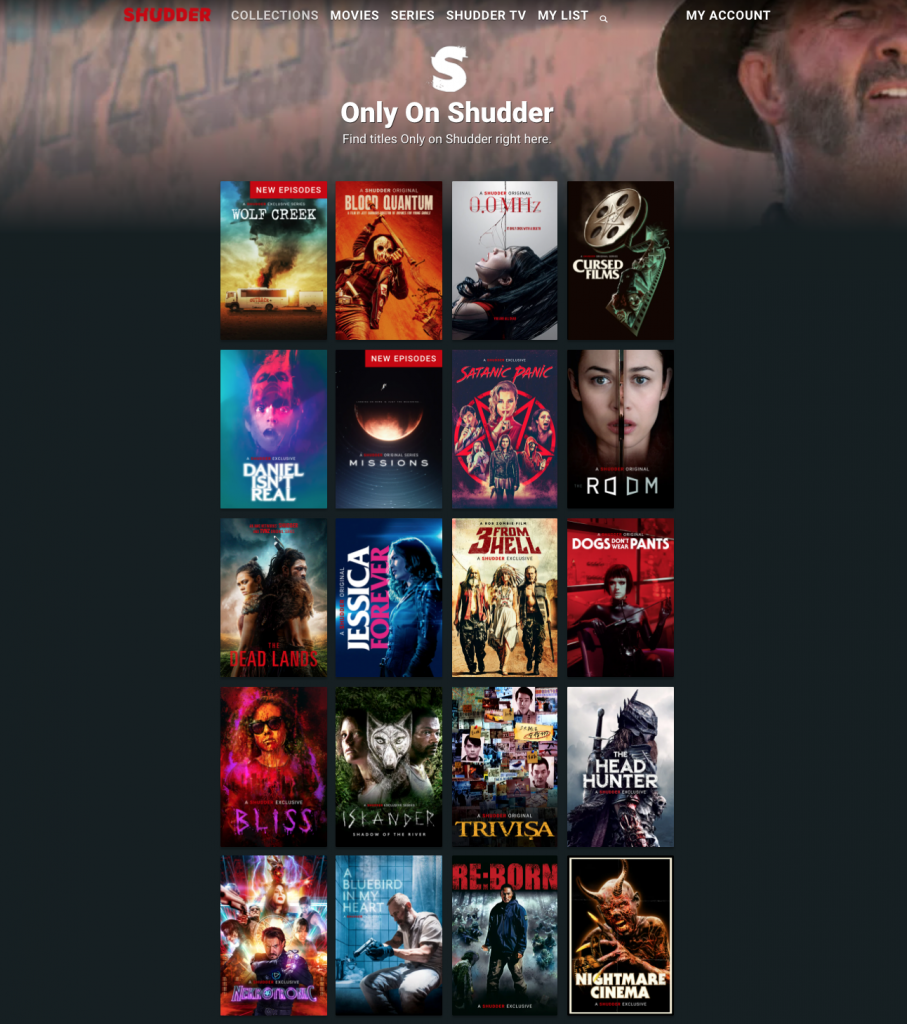 One feature where Shudder does shine and is something that I absolutely love, is their "Shudder TV" feature. Have you ever just kept scrolling through all the movies and shows and still couldn't find something to watch? Well, Shudder TV kind of solves that. It's like a horror channel that doesn't have commercials. For an indecisive person like myself, it's a life saver. Last time I turned on Shudder I found myself randomly watching the original Black Christmas and it was fantastic.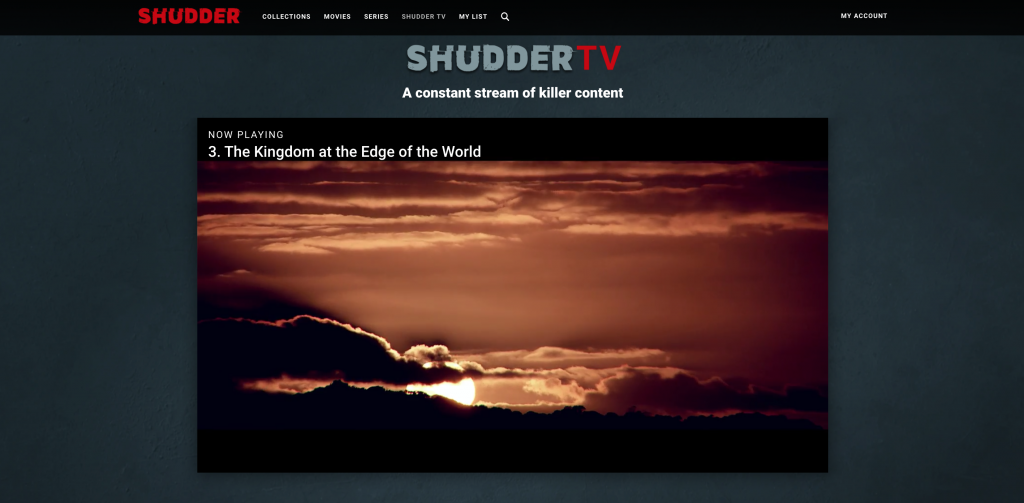 If you're a horror fan or a fan of any horror-esque sub-genre, I would recommend taking advantage of Shudder's current free trial deal. Whether it's for 30 days or 7 days, give it a try!